Walk along the shore of Como villas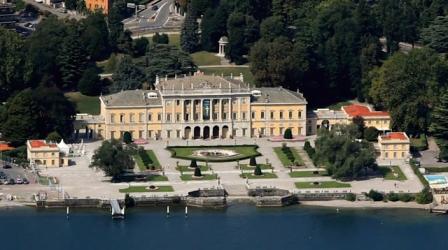 With an evocative walk along the west shore of lake Como you can admire many neoclassical villas built between the eighteenth and the nineteenth century. In 1959, the local government created a "romantic promenade" offering citizens and tourists a wonderful itinerary rich of beautiful sights and elegant buildings.
Villa Carminati, designed in 1787 by architect Felice Soave, is a small and elegant villa with double open gallery and decorated with statues and little angels.
Villa Saporiti, now headquarters of the Provincial Administration, also known as "la Rotonda" for its shape, was built on the project of Leopoldo Pollack and decorated with various sea deities.
Villa Gallia, also property of Como's Provincial Administration, was built in 1614 by abbot Marco Gallio in the place where Museo Gioviano (XVI century) was situated. The museum was erected by Paolo Giovio to host his personal collection of paintings, the one of Uomini Illustri (Illustrious Men), now at Pinacoteca Civica. The building is simple and characterised by a portico with three arches.
All villas are surrounded by lush gardens. Further, Villa Parravicini Revel is well recognizable thanks to its neoclassical and majestic structure, with Italian garden, while Villa Volonté has two symmetrical wings, with frontons decorated with bas-relieves and statues, and connected through a veranda.
At the end of the walk stands the famous neoclassical Villa Olmo, architect Simone Cantoni's masterpiece, and erected by marquis Innocenzo Odescalchi. Villa Olmo was first property of the Raimondi family and later the Visconti di Modrone family that transformed and enriched it before donating it to the Municipality of Como in 1924. Villa Olmo, with its beautiful Italian garden in front and its English garden in the back, is now home to crowd-pulling art exhibitions.
The habit of Lake Como villas dates back to Romans and it is strictly linked with the history of tourism around the lake.


indietro