Events
Pour invoquer Pan
from 12 Jul 2020 to 12 Jul 2020
Como City of Music Festival - Musical notes in the Villa
Theatre Cinema Music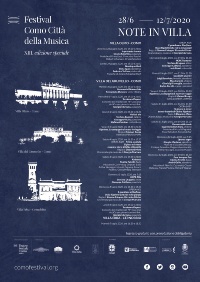 The XIII edition of the "Como City of Music Festival", special edition, "Musical notes in the Villa", will take place Sunday 28th June - Sunday 12th July 2020, for 15 days non-stop, in 3 locations (opening event will be at Villa Olmo on Sunday 28th June as well as on the following day, Monday 29th June): first week at Villa del Grumello (Tuesday 30th June – Monday 6th July), second week at Villa Erba (Tuesday 7th – Sunday 12th July).
Sunday 12th July 2020, 7.00pm and 9.00pm
CLASSICAL MUSIC
Pour invoquer Pan
Mattia Petrilli, flute
André Gallo, piano
Music by Pëtr Il'ič Čajkovskij, Claude Debussy, Francis Poulenc, Richard Wagner
Claude Debussy (1862-1918)
Pour invoquer Pan, dieu du vent d'été
Pour un tombeau sans nom
Pour que la nuit soit propice
Pour remercier la pluie au matin
Richard Wagner (1813-1883)
dai Wesendonck Lieder: Der Enger, Träume
Francis Poulenc (1899-1963)
Un Joueur de Flûte berce les Ruines
Sonata
Claude Debussy (1862-1918)
Ballade
Pëtr Il'ič Čajkovskij (1840-1893)
Kuda Kuda vi udalilis, Evgenij Onegin, Aria di Lensky
Jules Auguste Demersseman (1833-1866)
Solo de Concerto (Italiano) n. 6
The complete programme (in Italian)
Info
where: Villa Erba, largo Luchino Visconti 4 - Cernobbio
All the performances are free but reservation is required, in compliance with the regulations dictated by decree No. 556 of 12/06/2020 of the Region of Lombardy.

From Tuesday 23rd June 2020, reservations can be made online at www.teatrosocialecomo.com or at the Teatro Sociale's ticket office in Como (entrance from Piazza Verdi) with the following opening times: from Tuesday to Saturday 10 am – 1 pm.

You are able to book a maximum of two tickets to a maximum of three performances.

In the event of rain, the events scheduled to be held in the park of Villa Erba will instead be held at the Teatro Sociale's Sala Bianca.
Moreover, in the event of favourable weather conditions, other spaces may be made available both online and at the ticket office, on the same day of the performances, always in compliance with the required regulations.
The times that you can contact us remain unchanged: from Tuesday to Friday 2:30 pm – 4:30 pm, telephone no. 031.270170.
Further information (in Italian)
indietro