Events
Let's return to the opera!
from 06 Jul 2020 to 06 Jul 2020
Como City of Music Festival - Musical notes in the Villa
Theatre Cinema Music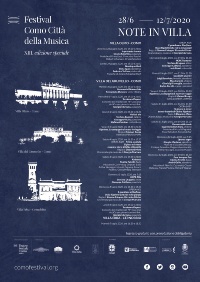 The XIII edition of the "Como City of Music Festival", special edition, "Musical notes in the Villa", will take place Sunday 28th June - Sunday 12th July 2020, for 15 days non-stop, in 3 locations (opening event will be at Villa Olmo on Sunday 28th June as well as on the following day, Monday 29th June): first week at Villa del Grumello (Tuesday 30th June – Monday 6th July), second week at Villa Erba (Tuesday 7th – Sunday 12th July).
Monday 6th July 2020, 7.00pm and 9.00pm
Opera
Let's return to the opera!
Concert by the winners of the 71st AsLiCo Competition for young opera singers

Sabrina Sanza, soprano
Karina Demurova, mezzo-soprano
Valerio Borgioni, tenor
Gillen Munguía, tenor
Pierpaolo Martella, baritone
Giorgio Martano, piano

Distant but united: melodies of my land.
Staying at home, away from those you love and what you love to do, deprived of dialogue with the public, but united in the name of the universal language of art and music: hence the idea of the second event with the Winners of the 71st AsLiCo Competition.
Each artist presents a selection of romances and chamber arias by fellow countrymen, from the enchanting
Russian melodies of Tchaikovsky and Rachmaninoff, the zarzuelas and canciones of Sorozábal, Vives and Lara, to our local sheets of music by Tosti, Leoncavallo, Gastaldon, Arditi and Rossini who give music to magnificent poetic texts by D'Annunzio, Pagliara, Aldighieri, Errico and Pepoli.


The complete programme (in Italian)
Info
where: Villa del Grumello, via per Cernobbio 11 - Como
All the performances are free but reservation is required, in compliance with the regulations dictated by decree No. 556 of 12/06/2020 of the Region of Lombardy.

From Tuesday 23rd June 2020, reservations can be made online at www.teatrosocialecomo.com or at the Teatro Sociale's ticket office in Como (entrance from Piazza Verdi) with the following opening times: from Tuesday to Saturday 10 am – 1 pm.

You are able to book a maximum of two tickets to a maximum of three performances.

In the event of rain, the events scheduled to be held in the park of Villa del Grumello will instead be held at the Teatro Sociale's Sala Bianca.
Moreover, in the event of favourable weather conditions, other spaces may be made available both online and at the ticket office, on the same day of the performances, always in compliance with the required regulations.
The times that you can contact us remain unchanged: from Tuesday to Friday 2:30 pm – 4:30 pm, telephone no. 031.270170.
Further information (in Italian)
indietro