Events
The rider
from 26 Jul 2020 to 26 Jul 2020
Lake Como Film Nights
Theatre Cinema Music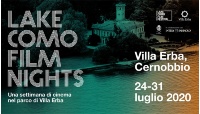 LAKE COMO FILM NIGHTS
7 nights of Cinema, among the trees of the Villa Erba Park there will be a representation of landscapes of the world in seven films.
24 — 31 | 07 | 2020
July 26th at 9.15pm
THE RIDER
Chloé Zhao
Brady is a member of the Lower Brule Sioux Tribe and currently resides on Pine Ridge. He is a saddle bronc rider and a horse trainer, who lives lika a man of the land. He hunts on horseback, fishes in the white river, spends most of his days working with wild horses , breaking and training them until they're fit for selling. Like a fish to water, Brady seems to understand every movement of the horse, as if they are locked in some kind of telepathic dance routine. One giving way to the other, until slowly and gently, a trust is formed. He's been doing it since he was eight years old, and it's miraculous to observe. Chloè was immediately drawn to him and she started to gather ideas for a film about Brady.

In English with Italian subtitles.
Info
where: Villa Erba, largo Luchino Visconti 4 - Cernobbio
Admission
TICKET - €9 + 10% pre-sale online
7 film PASS - €45 + 10% pre-sale online

Tickets for all the shows must be purchased online at www.liveticket.it/lakecomofilmfestival, in compliance with the regulations dictated by decree No. 556 of 12/06/2020 of the Region of Lombardy.

In the event of rain, the events will be cancelled and tickets will be refunded. Any changes or updates will be instantly published on social media channels (particularly Facebook) and on the website.
indietro