Events
Dead man
from 30 Jul 2020 to 30 Jul 2020
Lake Como Film Nights
Theatre Cinema Music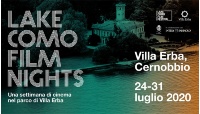 LAKE COMO FILM NIGHTS
7 notti di Cinema, tra gli alberi del Parco di Villa Erba la rappresentazione del paesaggio mondo in sette film.
24 — 31 | 07 | 2020
July 30th at 9.15pm
DEAD MAN
Jim Jarmusch
Dead Man is the story of a young man's journey, both physically and spiritually, into very unfamiliar terrain. William Blake travels to the extreme western frontiers of America sometime in the 2nd half of the 19th century. Lost and badly wounded, he encounters a very odd, outcast Native American, named "Nobody," who believes Blake is actually the dead English poet of the same name. The story, with Nobody's help, leads William Blake through situations that are in turn comical and violent. Contrary to his nature, circumstances transform Blake into a hunted outlaw, a killer, and a man whose physical existence is slowly slipping away. Thrown into a world that is cruel and chaotic, his eyes are opened to the fragility that defines the realm of the living. It is as though he passes through the surface of a mirror, and emerges into a previously-unknown world that exists on the other side.
In English with Italian subtitles.
Info
where: Villa Erba, largo Luchino Visconti 4 - Cernobbio
Admission
TICKET - €9 + 10% pre-sale online
7 film PASS - €45 + 10% pre-sale online

Tickets for all the shows must be purchased online at www.liveticket.it/lakecomofilmfestival, in compliance with the regulations dictated by decree No. 556 of 12/06/2020 of the Region of Lombardy.

In the event of rain, the events will be cancelled and tickets will be refunded. Any changes or updates will be instantly published on social media channels (particularly Facebook) and on the website.
indietro