Events
National Day of Families at the Museum
from 13 Oct 2019 to 13 Oct 2019
Free admission to the Municipal Museums of Como and initiatives for children in the Pinacoteca
Other events
Kids
Theatre Cinema Music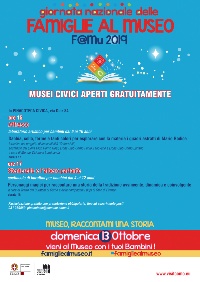 The Municipal Museums of Como take part in the seventh edition of the National Day of Families at the Museum, organized by Associazione Famiglie al Museo (Association of Families at the Museum) supported by the Ministry for Cultural Heritage and Activities.
On 13th October 2019, museums, foundations and exhibition sites will be open to families and special initiatives and specifically designed activities will be available for everyone.

An important opportunity for Municipal Museums to reaffirm their cultural and social role, as written in the UN Convention on the Rights of the Child "States Parties shall respect and promote the right of the child to participate fully in cultural and artistic life and shall encourage the provision of appropriate and equal opportunities for cultural, artistic, recreational and leisure activity."

On Sunday 13th October 2019, the admission to all Municipal Museums will be free of charge and in particular, two activities in the Pinacoteca will take place:

At 3 pm
Fresco
Art workshop for children aged 6 to 10 years, dedicated to the exhibition "Mario Radice: il pittore e gli architetti. La collaborazione con Cesare Cattaneo, Giuseppe Terragni, Ico Parisi" ("Mario Radice: the painter and the architects. Collaboration with Cesare Cattaneo, Giuseppe Terragni, Ico Parisi"), underway until November 24th.
Little artists will be asked to create their abstract painting with sand and vinyl glue intersecting lines, curves and geometric shapes, using colours to highlight the shapes created.
Initiative of the "CulturAbili" accessibility project, sponsored by Como Host Lions Club, Como Club Plinio il Giovane and Como Lariano Lions Club.
Curated by "Associazione Luminanda".

At 5 pm
Stenterello e l'albero parlante (Stenterello and the talking tree)
Puppet show for children aged 4 to 12 years.
The perfidious Barbariccia, Strega Nera, Prince Eugenio, Nano Verdino, Stenterello and Albero Parlante are the magical characters who tell us a story of the fascinating, dynamic and enchanting tradition.
Cured by the Teatro dei Burattini (Puppet Theater) of Como and the company Pupi of Stac of Florence
Info
where: Archaeological and Historical Museum, Piazza Medaglie d'Oro 1 - Como, Pinacoteca, Via Diaz 84 - Como. Tempio Voltiano, Largo Marconi - Como

Participation in the activities is free of charge

Reservation required and subject to availability - 031 268969 - pinacoteca@comune.como.it
indietro