Events
La caduta degli angeli ribelli ("The Fall of Rebel Angels")
from 16 Dec 2021 to 31 Jan 2022
A masterpiece by Paolo Pagani for the Pinacoteca
Workshops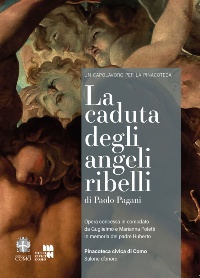 From December 16th, Como Art Gallery will host a new important work, granted on loan by Guglielmo e Marianna Poletti in memory of their father Huberto: La caduta degli angeli ribelli ("The Fall of Rebel Angels"), a late-Baroque painting by Paolo Pagani showing the terrible punishment inflicted on the angels who'd rebelled against God. The painting will be on display in the Salone d'onore for five years.

The painting depicts the terrible punishment of the angels who rebelled against divine authority. The archangel Michael and his companions storm in from above, defeating by force of arms the ranks of their former comrades, seduced by evil. In a tangle of bodies that appears to present a veritable 'challenge to gravitational laws' (A. Morandotti), the defeated angels fall to Hell, their faces equivocating between terror and powerless resignation before the fate that awaits them. More than a fall into the void, like the one depicted in Morazzone's lunette exhibited in this same room, the fall elaborated by the visionary imagination of Pagani, who always took care to render a personal take on the established iconographies, is a sort of 'amassing', a claustrophobic accumulation of faces and bodies, in which air circulation is reduced to a minimum and what prevails is the hallucinatory feeling of
struggle and damnation.
The entry of the archangel is accompanied by a stream of celestial light crossing the canvas diagonally like a projector beam blocking the reckless acrobatics of the bodies and distinguishing them from the eternal darkness to which they are doomed. For a moment the light accentuates the hypertrophic musculature of these nudes, sculpting their shapes and the hooked profiles of their faces, reminding us of Pagani's great passion for the nude, a tradition of which he was one of the late seventeenth century's most whimsical expounders, not only in his sketches, of which we know many examples, but also on the surface of his paintings and frescoes, as is well understood upon raising one's gaze towards the vault of the church of Castello Valsolda.
Info
where: Salone d'onore, Pinacoteca civica, via Diaz 84 - Como
COVID-19 Information: for 'Green pass' and 'Reinforced Green pass' obligation please check the web site of the Ministry of Health
Hours
From Tuesday to Sunday 10.00am to 6.00pm
Closed on 1st and 6th January, 2022
indietro