Events
Duo Sconcerto
from 17 Sep 2021 to 17 Sep 2021
LakeComo International Music Festival
Theatre Cinema Music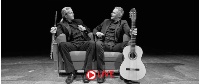 Since 2006, Amadeus Arte organizes the LakeComo International Music Festival, a series of concerts in intimate spaces within the beautiful villas and gardens overlooking Lake Como, in the historical town of Como and in selected villas and theaters of Brianza region.
The Festival has always programmed side by side classical repertoire and new music developing itself in balance between tradition and innovation. Always bilingual (Italian and English), the Festival guested many famous Italian and international artists.
The excellent acoustics of concerts' locations allows to enjoy music. Lectures or Guided Tours often accompany the concerts and the artists often introduce the pieces in a direct relationship with the public.
Friday 17th of September, 2021
5.30pm
Villa Parravicini-Revel
DUO SCONCERTO: Matteo Ferrari (flute), Andrea Candeli (guitar)
Music by Mozart, Monti, Giuliani, ecc.
The Duo Sconcerto is an irresistible mixture of Art and Technique: the skill and harmony of the two musicians, the result of a long collaboration, together with their total inability to take themselves seriously, gives birth to music that is understandable to everyone where the classics may become also pop, without any pretentiousness.
Talented, histrionic and ironic, endowed with rare technical skill, the Duo Sconcerto transforms every concert into a real show. Andrea Candeli and Matteo Ferrari have an intense and prestigious concert activity throughout Italy and abroad and a repertoire ranging from Mozart to Astor Piazzolla, Ennio Morricone to Irish folk, from the overture of the Barber of Seville to the Carmen of Bizet.
For Andrea Candeli and Matteo Ferrari, classical training, artistic maturity and musical competence are not a cage but an engine towards a never trivial and always aware improvisation, full of unpredictable and highly enjoyable nuances.
The Duo Sconcerto performed in several prestigious venues including the Petruzzelli Theater in Bari, Sala Nervi of the Vatican City, the Bibbiena Theater of Mantua, the Cini Foundation in Venice, Palazzo Pitti in Florence and also in different universities. The Duo collaborates with various artists including Ugo Pagliai, Ivano Marescotti, David Riondino, Vito and Vanessa Gravina, Luciano Ligabue. They played with Andrea Griminelli and recently opened a concert of Andrea Bocelli.
indietro