Events
Castello Baradello
from 28 Nov 2021 to 28 Nov 2021
Tours with booking required
Guided Tour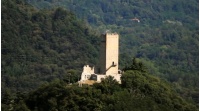 Symbol of the city of Como, the "stone sentinel" erected for the defense of Como, Baradello Castle is clearly visible to anyone approaching the city.

The Castle is located in a significant strategic point. From the top of the Tower you can enjoy a truly breathtaking view: from Switzerland to Milan, from Monte Rosa to Resegone. A unique 360 degree view of the lake, the Alps and the entire Po Plain.
The Baradello castle is a scenic and easy stroll away from different parts of the city. In a couple minutes and with a bit of walking, you can reach a place that naturally submerges you in history, greenery and the soul of our area.
2021, with the new relaxation of restrictions, brings new events, managed by Slow Lake Como:
A calendar of ongoing and regular events:
A visit to the castle with yoga and Sun Salutation lessons every first Saturday of the month;
Playful and educational workshops proposed for children every second Saturday of the month
Food-tasting tours featuring products of the region, organized in collaboration with local agricultural businesses.
In a year strongly marked by Covid and restrictions, the Baradello Castle is opening to the public again, a sign of hope for the future. The openings will be: every Friday evening, every Saturday, Sundays and holidays, as well as any other day upon request.
Info
where: Castello Baradello, via Castel Baradello - Como
Difficulty: suitable for all. The tower can be climbed via a staircase around 15 m off the ground, something to keep in mind for those who suffer from vertigo
Clothing and gear: comfortable, suitable for walking
Children: children are welcome; it is not accessible with pushchairs
Accessibility: partial accessibility, the tower is not wheelchair accessible
The castle can only be visited with a guided tour which is given in Italian and in English.
The Baradello guided tour takes around 40 minutes, beginning at the castle entrance every hour.
Reservation is recommended (online at least within half an hour before the beginning time)
online Parco della Spina Verde
on Facebook page
https://fareharbor.com/embeds/book/slowlakecomo/items/304666/calendar/2021/05/?flow=160024&full-items=yes
0-5 years: free admission
6-14 years: 4 €
adult fare: 7 €
disabled people + accompanying person: free admission
In compliance with current government regulations, from August 6th 2021 it will be mandatory that visitors show their Green Pass (also "EU Digital COVID Certificate")
Further information (in Italian)
indietro