News
Art from Como at the Winter Olympics
Data: 15 Feb 2018
Art Installation "Casaluce" by Massimo Uberti at Casa Italia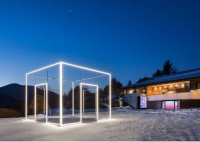 There is also a piece of Como in PyeongChang, in South Korea, on the occasion of the XXIII Winter Olympic Games: the installation "Casaluce" by Massimo Uberti - exhibited near the Broletto during the 8208 Lighting Design Festival edition, promoted from the Volta Foundation and the Municipality of Como and acquired by the Foundation itself - it is currently exhibited at "Prospectum", an exhibition hosted in Casa Italia.

Casa Italia, opened on February 7th at the Yong Pyong Golf Club in PyeongChang, is the headquarters of the Italian delegation and its guests, and it aims to enhance Italian excellence in sport, art, design and hospitality.
The "Prospectum" exhibition aims to present our country through a cultural invention recognized all over the world: the representation of perspective. An idea that has revolutionized the way of seeing reality and interpreting it, and that at Casa Italia 2018 is modernized by a contemporary language.
The artists involved in the "Prospectum" project represent excellence and eclecticism in Italy: "Casaluce" by Massimo Uberti, the leading work of this exhibition, is the luminous design of an ideal home, where light is at the center of a path of subtraction.

Casaluce will be exhibited at PyeongChang until February 25th 2018, when it will return to Como temporarily to be then exhibited in other international scenarios.
indietro