Events
Mozart in the hangar
from 13 Jul 2017 to 13 Jul 2017
Electric String Trio in concert in Como
Theatre Cinema Music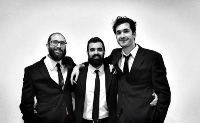 What would Mozart think of the work the EST have dedicated to him? We will never know!
From his letters and his exuberant personality, however, we know with certainty that Mozart was an "experimenter", always ready to find new compositional and unpublished musical ideas. Astonishment and wonder were the feelings that Mozart hoped to arouse in his audience. Today, the music of every age and of any kind is perfectly accessible and the boundaries between the different musical environments in many cases become more indefinite.

The EST start from this state of things and this background, and through original arrangements made by the members themselves, they revivethe Viennese composer's music into a new key.
From jazz to bossanova, from gipsy to waltz every musical experience finds room in their music, which also uses effects and loop stations. Violin (electric and acoustic), cello (electric and acoustic) and double bass give voice to these sound follies.

Mozart's music re-arranged in jazz, bossanova and gipsy style.
Violino Nicola Nieddu
Violoncello Antonio Cortesi
Contrabbasso Luca Di Chiara
Info
Venue: Hangar Aero Club Como, viale Puecher, (even in case of rain)
Free Entry
indietro