Events
Medieval historical parade
from 17 Sep 2017 to 17 Sep 2017
Traditional historic parade in medieval costumes for the "Palio del Baradello"
Other events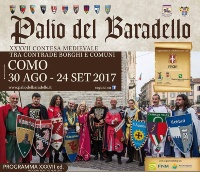 Parade in Medieval Costumes as part of the Palio del Baradello event.
The Parade starts at 3pm at the Ippocastano and ends in Piazza Cavour, after the proclamation of the Winner at 5pm.
Emperor Frederick and Empress Beatrice, followed by Nobles and Ladies, will enter the city by Porta Torre, preceded by two young amazons on horseback by two imposing hounds, a black one and a white one, symbolizing the Empire and the City.
Knights, Militias, Armies and Guards will escort them through the city streets; followed by the War Machines and the Carroccio. At the end of the parade there will be the Borghesi and the common people.

The Grand Historic Court will be enriched by numerous public medieval groups, including musicaians, jugglers, "sbandieratori".


5pm
Piazza Cavour
Spectacular final show of all the groups that participated in the parade,

At the end, the Palio will be assigned, and there will be the proclamation of the Palio 2017 winner and the delivery of the drapery.
Info
Venue: from the Ippocastano (via Aldo Moro) to piazza Cavour
In case of rain, the parade will take place on Sept 24th 2017
indietro