Events
Mamma, piccole tragedie minimali
from 03 Aug 2019 to 03 Aug 2019
AcCOMOdatevi - Take a seat
Theatre Cinema Music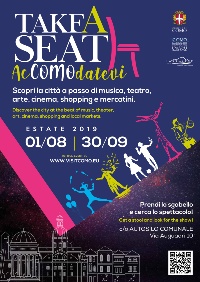 The theatre company "Castello di Sancio Panza" presents the last text of Annibale Ruccello, artist from Campania, Italy, who died in 1986 when he was only thirty years old. Four short single acts will be interpreted by Gianluca Cesale and directed by Roberto Bonaventura. The language spoken by the characters of Ruccello, often belonging to social classes confined to the outskirts of society, has a special charm, due to the genuineness expressed by the dialect and the parody of the Italian language of the television of the 80s. The acts are about small tragedies of everyday life, squalid lives lived without being able to choose, understand and change. At the heart of all this, is the mother's feeling that, in a crescendo of insanity, takes on disturbing and violent proportions in a context of apparent comedy that degenerates into grotesque. Four different women, named Maria, and an actor, just him, to interpret all of them. The work represents one of the highest examples of drama by Ruccello, which represents that generation of the "new Neapolitan theater" that has yearned for the creation of a stage writing strongly linked to reality, but at the same time capable of revealing its humorous and ironic side.
The leaflet with all the events that will take place on August and September in Como
Info
where: Spazio Natta, via Natta 18 - Como
Event is free, subject to availability (max 40).

By presenting your ID card at the parking garage in via Auguadri, you will receive a camping stool to attend the show and to be returned at the end of the event.
Hours
At 7.00 pm - repeat performance at 10.00 pm
indietro