Events
Mahler 9 concert
from 27 Nov 2017 to 27 Nov 2017
Orchestra Sinfonica di Milano Giuseppe Verdi at Teatro Sociale
Theatre Cinema Music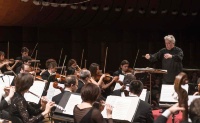 A great symphony at the Teatro Sociale.
A unique symphonic opening of the season, with a composer like Gustav Mahler whose music has been absent from this stage for many years. His latest symphony, the Ninth, which features an immense organ, as well as all his other symphonies, are on the programme.

"My time will come." is a famous phrase by Gustav Mahler, who describes this unforgettable night, the most unique and rare, that the Teatro Sociale is proud to present. The Ninth is the artistic testament and the last one completed by Mahler, whose music actually reflects the turbulent atmosphere of the early twentieth century. Back for the occasion, the Orchestra Sinfonica di Milano Giuseppe Verdi, already well-known interpreter of the Mahlerian symphonies, is led by his new music director, Claus Peter Flor.


Gustav Mahler, Sinfonia n. 9 in re maggiore
Director Claus Peter Flor
Orchestra Sinfonica di Milano Giuseppe Verdi
in collaboration with Associazione Giosuè Carducci
Info
Venue: Teatro Sociale, piazza Verdi
indietro