Events
Laura Fedele
from 10 Aug 2019 to 10 Aug 2019
AcCOMOdatevi - Take a seat
Theatre Cinema Music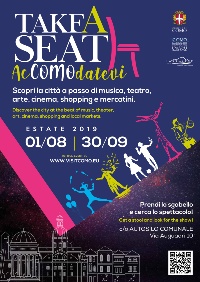 Eclectic and versatile artist, she creates original and high professional projects. She gives a personal interpretation of the blues and jazz classics, especially of the female repertoire and is known for her ability to adapt herself to very different musical genres.
The leaflet with all the events that will take place on August and September in Como
Info
where: Spazio Natta, via Natta 18 - Como
Event is free, subject to availability (max 40).

By presenting your ID card at the parking garage in via Auguadri, you will receive a camping stool to attend the show and to be returned at the end of the event.
Hours
At 8.30 pm - repeat performance at 10.00 pm
indietro