Events
D`Auria Castiglioni Calabrese Trio
from 10 Aug 2019 to 10 Aug 2019
AcCOMOdatevi - Take a seat
Theatre Cinema Music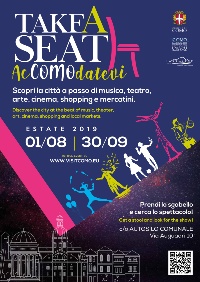 The artists' offering, enriched by the performance of the woodwinds, is authorial. The love for jazz encountered in many forms has led to a project that is a place of confluence of artistic experiences and the starting point of a musical language that wishes to make use of the great traditions, reconsidering and interpreting them with creativity and originality. The musical world of this project moves along the great riverbed of jazz and the art of improvisation, but participates in the world's great cultures, with an eye to the future and the search for an identity that is creative, fresh, and lively.
The leaflet with all the events that will take place on August and September in Como
Info
where: Portici del Broletto, piazza Duomo - Como
Event is free.

By presenting your ID card at the parking garage in via Auguadri, you will receive a camping stool to attend the show and to be returned at the end of the event.
Hours
At 8.30 pm - repeat performance at 10.00 pm
indietro