Events
404 Not Found
from 25 Jul 2019 to 25 Jul 2019
Live Music!
Theatre Cinema Music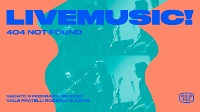 We are a band born in 2017 among the benches of our high school. The kind of music we play is a mixture of pop, folk and blues, which experiments and often tends to other genres such as manouche. In addition to playing pieces written by us, we also interpret covers by famous and unknown artists, rearranged in harmony according to our style.
With our repertoire we try to offer both the latest musical trends as well as based on current topics.
Info
where: Ostello Bello Lake Como, Viale F.lli Rosselli 9 - Como
Free entrance
indietro