Events
Ospiti d'Arte - Art Exhibit
from 02 Mar 2018 to 11 Mar 2018
Art Exhibits by the guests of the Old People House Ca' d'Industria
Exhibition
Exibition's opening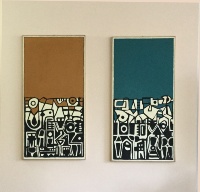 Organized by the Ca 'di Industria Foundation in collaboration with the Department of Culture of the Municipality of Como, the exhibition "Guests of art. Artists from Ca 'd'Industria ", displayed in the exhibition space of San Pietro in Atrio in Como, closes the celebrations of the 200 years of activity of this praiseworthy institution of the city, that for two centuries has been dealing with those who remain on the margins, risks loneliness, anxiety, exclusion.
Guests of the Institution include many different interesting people, with diverse stories and talents. Amongst them there are professional Artists andart-lovers.


Artists and Art pieces
The Exhibit, curated by Luigi Cavadini, presents Art from twelwe different Artists, all of whom have been guests of the Institution at some point in their lives.


Info
Venue: S. Pietro in Atrio, via Odescalchi, Como
Free Admission
Hours
Saturday and Sunday 10 am to 5 pm
Tuesday to Friday 2 pm to 6 pm
Opening March 2nd at 5 pm
indietro