Events
Medicamenta et Curae
from 27 Sep 2019 to 13 Oct 2019
Art Exhibition in Tribute to Joseph Frank and Johann Peter Frank
Exhibition
Exibition's opening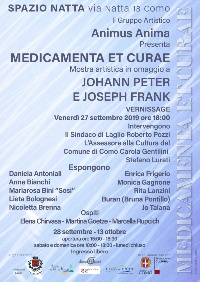 In the mid-1800s Como and Laglio were united by the presence and work of Joseph Frank.
Joseph Frank studied in Pavia, where he became a doctor, working firstly in Vienna and then in Vilnius, before moving to Como for the last period of his life, and was a contemporary of Alessandro Volta, whom was a great friend of his. Joseph Frank chose Laglio as the place where he wished to spend the last phase of his life, in fact his tomb is in the Pyramid, an imposing funeral monument, which he himself both wanted and designed.
Joseph Frank was the son of Johann Peter, an enlightened doctor, who, at the end of the 18th century, began teaching at the University of Pavia. He was a doctor at the Astro-Hungarian court.

The "Medicamenta et Curae" painting exhibition, curated by the "ANIMUS ANIMA" Cultural Artistic Group is dedicated to these illustrious characters.
As part of the exhibition, the artists will also offer a tribute to Leonardo da Vinci on the occasion of the 500th anniversary of his death.
Info
where: Spazio Natta, via Natta 18 - Como
The opening of the exhibition will take place on Friday 27th September 2019 at 6 pm
Free entrance
Hours
From Tuesday to Friday: from 3 pm to 6:30 pm
Saturday and Sunday: from 10 am to 6 pm
Monday: closed
The opening of the exhibition will take place on Friday 27th September 2019 at 6 pm
indietro