Events
Lake Como Lights Cruise
from 03 Sep 2021 to 03 Sep 2021
Lecco branch
Other events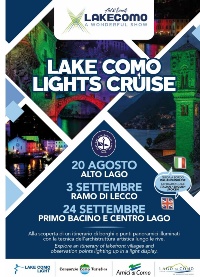 Three appointments to navigate discovering the villages and observation points belonging to the Lake Como Summer Light Project, lighting up with in a light display.

20 AUGUST 2021: cruise on the upper lake, departing from Bellagio, Varenna, Menaggio and Domaso; from here navigation towards Gravedona, Dongo, Musso, Pianello, Corenno Plinio, Piona up to Colico and return to the starting point.

3 SEPTEMBER 2021: cruise to the Lecco branch. Departure from Bellagio, Varenna and Lecco; from Lecco there is a cruise of about an hour to admire the lighted and coloured villages of Abbadia Lariana, Mandello and Malgrate and then return to Lecco and the center of the lake.

24 SEPTEMBER 2021: cruise departing from Como coasting the western shore of the lake up to Tremezzo, itinerary in the center of the lake up to the Comacina island, return to Tremezzo and then to Como along the eastern shore.

On board there will be an Italian / English guide who will narrate you the peculiarities and stories of the small and enchanting towns encountered during the cruises.

Limited seats.
To discover all the lakeside villages and the illuminated observation points, you can download the Lake Como Light app for free, from PlayStore and AppleStore
indietro