Events
Lake Como Christmas Lights Cruises
from 07 Dec 2021 to 07 Dec 2021
Night cruise
Other events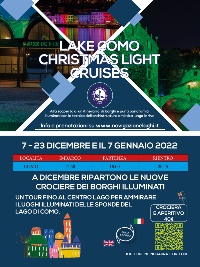 New appointments with LAKE COMO CHRISTMAS LIGHTS CRUISES to enjoy the beautiful and lights coloured villages and monuments and immerse yourself in magic Christmas atmosphere.

Three cruises scheduled: 7th December, 23rd December and 7 January 2022. Departure from Como dock at 18:00; the boat will navigate until the middle lake coasting the towns of Blevio, Torno, Faggeto, Pognana, Careno, Nesso, Lezzeno – afterward the return cruise will coast the opposite side in front of villages of Sala Comacina, Colonno, Argegno, Brienno, Carate Urio, Moltrasio e Cernobbio. On board it will be served a tasty aperitif.

The return in Como and the end of cruise are scheduled for 20.45.

On board a guide will narrate you the enchanting towns encountered during the cruises.
Hours
Starting at 6.00pm, return at 8.45pm
indietro