Events
Due violini (Two Violins)
from 14 Jan 2022 to 14 Jan 2022
Como Classica 8th edition
Theatre Cinema Music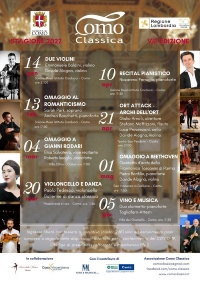 Como Classica
8th edition
Season 2022
Como Classica will start with the usual concert season 2022.
Also this year, a rich calendar of great performers.
Friday 14th January 2022
9.00pm
Due violini (Two Violins)
Salone Musa
Violinist Emmanuele Baldini will duet with Davide Alogna on music by Boccherini, Leclaire, De Beriot and Prokofiev.
Info
Where: Salone Musa, Istituto Carducci, viale Cavallotti 7 - Como
The admission at the concert it's free but restricted for the member of the Association.
Further information: comoclassica@gmail.com
For all information please visit the dedicated page
indietro