Events
Documenting the ephemeral
from 21 Sep 2019 to 26 Oct 2019
Images and material from Campo Urbano
Exhibition
Exibition's opening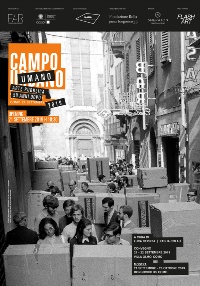 From its title, the project addresses Campo Urbano, the art-event curated by Luciano Caramel that occupied the public spaces of the Italian town of Como for one day on 21 September 1969 with a number of artistic ephemeral interventions; often disorienting for Como's residents and local press.
Among art writers and curators, the exhibition sparked and propelled a lengthy debate about the exhibitions that had been burgeoning in the years 1968-1969 in the squares and streets of small towns in Italy. In the midst of the protest and anti-authoritarian movements of '68, and the consequent occupation of the street by workers and students, Campo Urbano, as in other exhibitions of these years, sought a new connection with the realities of everyday life, and a wider public than only an art audience. A connection that revealed itself to be not short of ambiguity.

Conceived as a two-day conference and an exhibition, Campo Umano - Public Art 50 years after, celebrates the 50th anniversary of that exhibition-event, reconsidering its merits and failures in its wider historical and artistic context. At the same time, the project seeks to continue the debate of what remains at stake in a social and technological context 50 years on, in which the same ideas of public space and public good, the concepts of collectivity and community, have profoundly mutated with respect to the time of Campo Urbano.

Exhibition
Documenting the ephemeral reconstructs the events of Campo Urbano through materials, letters and drawings from the archives of the artists involved, catalogues and ephemera designed by Bruno Munari, reviews in periodicals of the time, and a rich documentation of montaged video-footage and video-interviews made by Archivio Mulas. Along with the pivotal role of photographic documentation by Ugo Mulas, the exhibition will present photographs, never published before, by Gianni Berengo Gardin and Gabriele Basilico, taken on that same day 50 years ago.
A project curated by Luca Cerizza and Zasha Colah.


Related event
Campo Urbano - Ugo La Pietra - Exhibition
Info
where: borgovico33, via Borgo Vico 33 - Como
Free admission
Advance booking for visits: +39 031 3384976
Hours
Hours: 10am-6pm (Saturday and Sunday)
on appointment (Monday-Friday)
indietro