Events
Castello Baradello
from 05 Jul 2020 to 05 Jul 2020
Tours with booking required
Guided Tour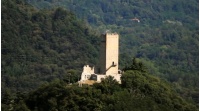 Symbol of the city of Como, the "stone sentinel" erected for the defense of Como, Baradello Castle is clearly visible to anyone approaching the city.

The Castle is located in a significant strategic point. From the top of the Tower you can enjoy a truly breathtaking view: from Switzerland to Milan, from Monte Rosa to Resegone. A unique 360 degree view of the lake, the Alps and the entire Po Plain.

Inside the Museum, the guides will take the visitor on a voyage through time, from the origins of Como to the present day.

The guided tour lasts about 20 minutes and will be organized in small groups (max 10 people): booking is required.


For those who prefer an evening walk, the climb up to the Castello Baradello will still take place on Friday evening, departing from Piazza Camerlata, via Colonna corner, starting at 8:30 pm with a duration of 2 hours; those who are interested can send an email to: prenotazioni@spinaverde.it, in which case the cost will be €6 for children aged 7-14 years old and €12 for adults.
Info
Where: Baradello Castle, via Castel Baradello - Como

Guided tours every 30 minutes, last visit at 5.30 pm

Booking is required and can be done online up to the day before: the booking system offers 10 spaces for each tour, which depart every half an hour. Any free spaces will be given to those who show up on site, but availability is obviously not guaranteed.

Those who have booked must meet at the beginning of the steps at the Baita Amici del Baradello, wearing masks. Here a small medical area has been set up in which people's body temperature can be measured before they enter the castle area and go on the guided tour.


Entrance:

0-6 years: free
7-14 years: 4 euros
Adults: 6 euros

More information in Italian
Hours
Sunday, July 5th from 10.00 am to 6.00 pm (last visit at 5.30 pm).
indietro