Events
Back into the mountain!
from 05 Jul 2020 to 04 Oct 2020
Free excursions with alpine guides
Guided Tour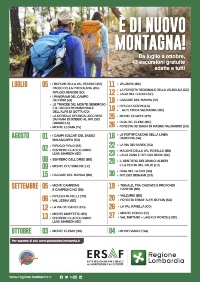 Free excursions with alpine and mid-mountain guides from Lombardy are back again this year: 43 trips, from July to October, discovering our region's most beautiful forests.

They are open to everyone and are suitable for families with children andalpine beginners, as well as more experienced walkers.Each excursion will take place in compliance with the anti-Covidregulations and a number of places among those participating will be reserved for professionals and workers employed in the healthcare sector of the Lombardy region, as a sign of gratitude for their commitment in the fight against Coronavirus.
The initiative is promoted by the Assessoratoallo Sport e Giovani di RegioneLombardia(Lombardy Region Sports and Youth Department)and theCollegioRegionale Guide Alpine Lombardia(Lombardy Regional College of Alpine Guides), in collaboration with Ersaf– Regional Body for Agriculture and Forestry Services.

Excursions
The 43 excursions will be distributed within 7 of the Lombardy provinces and will be held on weekends from July to early October. There will be 9 in the province of Brescia, 9 in the province of Bergamo, 11 in the province of Sondrio, 5 in the province of Como, 4 in the province of Lecco, 3 in the province of Varese and 2 in the province of Pavia. The complete list of destinations and dates can be found on the website of the Lombardy College of Alpine Guides via this link: https://www.guidealpine.lombardia.it/2020/06/23/promo-2020-iscriviti-alle-escursioni/

Who can participate
The excursions are distinguished by different durations and levels of difficulty, so that everyone can choose the one that best suits their abilities and preferences. Minors from the age of 10 years old can also participate: children between 10 and 14 years of age must be accompanied by a parent or guardian, while those over the age of 14 simply need to present the appropriate completed form, which has been signed by the parent (available on the Lombardy College of Alpine Guides website on each excursion page).

Registration
The days out are completely free, you can register directly on the College website where you can also find all the information regarding the excursions: the description, difficulty and duration of the route, the meeting place and time, as well as recommended equipment and clothing.You will be able to register up until midday on the Thursday preceding the day of the excursion. Given the high demand for this successful initiative every year, those who register for an excursion are required to turn up or to cancel their registration as early as possible, so as to allow other people to register and to enable the many professionals involved in the initiative toorganise it in the best possible way.
Hours
Various dates and times
indietro