Events
Walking Dad - Nato sotto il segno dei gamberi
from 28 Sep 2019 to 28 Sep 2019
AcCOMOdatevi - Take a seat
Theatre Cinema Music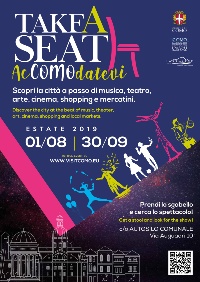 Walking Dad - Nato Sotto il Segno dei Gamberi ('Born Under the Sign of the Shrimp') deals with how fatherhood makes you see the world differently.
From the sensations of a man who has just become a father, the fears, discussions with new fathers called
Breaking Dads, the thought of death, the idea of unknown love.
The search for happiness elsewhere, the two faces of truth, ambition concealing traps, how to accept the
thought that your children live in the world and not your world.
The evolution of human research is fully expressed with the transformation into a Walking Dad, a superhero
without apparent powers, but curious in the act of becoming a better person.
From the uncertain hands that welcome the first child to the confident hands that grasp the handlebars of a bicycle that the father is learning to ride at forty years old.

The leaflet with all the events that will take place on August and September in Como
Info
where: Spazio Natta, via Natta 18 - Como
Event is free, subject to availability (max 40).

By presenting your ID card at the parking garage in via Auguadri, you will receive a camping stool to attend the show and to be returned at the end of the event.
Hours
At 7.00 pm - repeat performance at 10.00 pm
indietro