Events
The city like a woman
from 09 Sep 2017 to 01 Oct 2017
Nataliya Teslenko Art Exhibit
Exhibition
Exibition's opening
Como opens a first personal Art Exhibit by Nataliya Teslenko, an exhibition organized in collaboration with the Council of Culture of Como and curated by D. Battaglia.

Two words on the title. Why "The city as a woman"?

With this title the artist offers her vision of the city: a double figure depicted on one side as a fascinating, seductive woman who is displaying her own jewelery - monuments and natural beauties - and on the other as a mother, welcoming, protective, always available to help their children.

The city of Como lived by a woman of Ukrainian origin and now living in Como.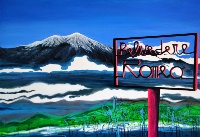 The themes faced by the painter and presented in the exhibition are primarily the territory of Lake Como, its monuments and the lake (Como, Cernobbio, Brunate, Bellagio, Mezzegra, Ghisallo etc.), botany and zoology, fantastic performances and not least abstract painting.
In some of her paintings she feels the influence of Russian constructivism in addition to the obvious preference for graphics. In many works the themes mingle or overlap, so that seemingly abstract works, to a more careful observation, have phytoomorphic and zoomorphic parts, landscapes with the insertion of graphic parts or the presence of graphs. Colors, always very vivid and juxtaposed, create prospective depth and opening effects.

She also expresses in art the strong affection the her daughter: the face or silhouette of Lavinia emerge everywhere in her works.

She won the Second Prize at the 43rd edition of the "Vicolo Poldo Trophy" in Schignano (CO) with the opera "Belvedere Romeo", depicting the view from the belvedere near the Sanctuary of the Madonna del Ghisallo. An interesting work that blends painting with fluorescent colors and snapping graphics.

Nataliya Teslenko's works are in private collections in Ukraine, Russia, Italy and Switzerland.
Hours
Opening Times
Tuesday to Saturday
10am to 1pm / 5pm to 7pm
Opening on Saturday 9th September at 6pm
indietro