Events
The Kolors
from 15 Jul 2017 to 15 Jul 2017
Italian Rock Band in a live concert full of energy
Theatre Cinema Music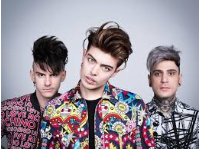 The Kolors are an Italian band formed by Stash Fiordispino (voice, guitar), Alex Fiordispino (drums) and Daniele Mona (synth).

Rock enthusiasts and electronic music, the trio begins to collaborate in Milan in 2010, when the first professional engagement also arrives, leading them to become the resident band of one of the most famous venues in the city: The Monkeys.

Their name begins to grow within the Milanese scene of undeground clubs and in 2011 they produce the unpublished "I Do not Give A Funk". MTV New Generation program the video to which their friend Andy of Bluvertigo participates. After some concerts abroad between Stockholm (Middag), Berlin (White Trash) and London (Runway), the Kolors opened the Italian concerts of Paolo Nutini (July 2012), Gossip (November 2012), Hurts (March 2013) and Are among the special guest of the Roman date of Atoms For Peace (June 2013).

The Kolors participate in the 2015 edition of the "Amici" program, conducted by Maria De Filippi on Channel 5, winning the prize and also the Critics Prize.

In 2015 they released the new album "Out", driven by the hit "Everytime", quickly achieving success: four times platinum disc, more than 200,000 copies sold and for over two months ranked first in the Italian charts. After a long two-year wait, The Kolors come back in May with the new album and with a new tour that will take them around Italy. In the meantime, the new, amazing single featuring Gucci Mane & Daddy's Groove, which brings fresh sound to the band, also includes the participation of Gucci Mane, superstar of rap made in USA, and Daddy's Groove, duo of Internationally renowned producer.
Info
Venue: Arena Teatro Sociale, via Bellini

Please buy tickets at TEATRO SOCIALE

Further Information
indietro