Events
Paolo Tomelleri's stories about Django Reinhardt
from 01 Sep 2019 to 01 Sep 2019
2019 Sounds and colors - Matinée jazz
Theatre Cinema Music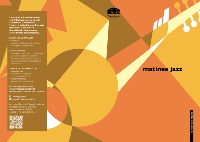 international to give shape to a rich and original musical overview, ranging from the revisited Klezmer music of the Rapsodija trio to the experiments of the duo Simone Mauri and Flaviano Braga, to Django Reinhardt presented and played by Tomelleri to the new swing interpreted by Alfredo Ferrario.
The show attracts every year a considerable audience both for the quality of the proposal and for the context of exceptional beauty.
Sunday, 1 September, at 11.30 am, Paolo Tomelleri's stories about Django Reinhardt
A journey along an evocative route stretching from light music and jazz on the main Italian and international stages. Needless to present Paolo Tomelleri because his career speaks for himself. You can't help but listening to his words carefully while telling about Jazz history he has experienced first-hand together with the greatest international artists and about the story of the songs he performs.
Paolo Tomelleri - clarinet
Flavio Minardo - guitar
Claudio Pietrucci - guitar
Alberto Guareschi - double bass
Info
where: Serra, Villa del Grumello, via Cernobbio 11 - Como
indietro