Events
Night Train Jazz Trio
from 24 Aug 2019 to 24 Aug 2019
AcCOMOdatevi - Take a seat
Theatre Cinema Music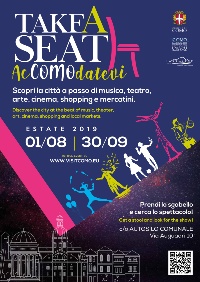 The group wants to pay tribute to the most dynamic and prosperous season of the American jazz, by reinterpreting, in a free and original way, pieces from the hard bop and post bod repertoire, from the end of the Fifties to the present days. The playlist ranges from the classics by Thelonius Monk, Charles Mingus, Cannonball Adderley, Sonny Rollins, John Coltrane to the most recent works by Kenny Garrett and some compositions are also very original. The Trio which comprises sax, bass, drums, without harmonic instrument, turns the spotlights on rhythm and timbre of music while leaving, at the same time, more expressive freedom to the solo. In this regard, the Trio of Kenny Garrett of the Nineties and the most recent record collection with the same group by Joshua Redman become undeniable points of reference.

The leaflet with all the events that will take place on August and September in Como
Info
where: Spazio Natta, via Natta 18 - Como
Event is free, subject to availability (max 40).

By presenting your ID card at the parking garage in via Auguadri, you will receive a camping stool to attend the show and to be returned at the end of the event.
Hours
At 8.30 pm - repeat performance at 10.00 pm
indietro