Events
Mysteries and curiosities of Como
from 25 Nov 2017 to 25 Nov 2017
Explore the centre of the city at night
Guided Tour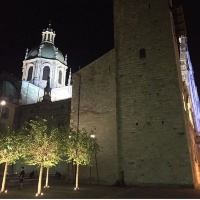 The alleys and old buildings of Como city center have countless stories to tell. Walking through the center, at night, we stumble upon mysterious architectural details, monuments with curious and enigmatic names, stories of charming and forgotten characters. A journey to discover the hidden and mysterious sides of Como. A guided tour that reveals aspects of the city unknown to most people, locals included.
Duration 2 hours
Meeting 15 Min before, in Piazza Cavour , 1
Difficulty: Easy, entirely flat terrain
Book your tour
Info
PRICE AND SERVICES INCLUDED
Services:
Guided tour; with tastings
Tickets:
Adults: 25 €
Youth (4-14): 15 €
Children (0-4): free
ADDITIONAL INFORMATION:
Difficulty level: the route takes place entirely in the city center, pedestrian and flat streets
Equipment and Clothing: suitable for an urban route (practical information)
Children: children of all ages are welcome!
For further information:
info@slowlakecomo.com
tel. +39.339.26.43.621
slowlakecomo.com
Facebook page: Slow Lake Como
indietro