Events
Guided Tour of the City Centre
from 04 Nov 2017 to 04 Nov 2017
All the MUST-SEE of Como city
Guided Tour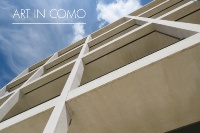 A Guided Tour by Official Tourist Guides, in English and in Italian, no reservation needed.

Como is a lakeside city full of artistic monuments, built in different eras: this Tour will walk you through all the historic highlights. As we stroll through the ancient streets in the heart of the town, surrounded by Roman walls, we can admire beautiful Romanesque and Baroque churches, Piazza Volta and Piazza Duomo, with its charming old Town Hall building, called Broletto, and its characteristic bell tower. The highlight of the tour is a visit of the superb 600-year old Cathedral. Behind the Cathedral is the masterpiece of modern Rationalist art the "Palazzo Terragni". Join the Official Guide in a 2-hour walk around the town centre.
Info
Meeting Point: Info-point Broletto, entrance from Piazza Duomo and in via Pretorio (by the Cathedral)

 at 10am

Guided Tour in Italian and in English

No reservation needed.

Tickets

Adults - 4 Euros

Under 10 Free



Guided visits are led by Associazione Mondo Turistico and Associazione C-Lake Today.
indietro