Events
Como Lake Burlesque Festival
from 14 Sep 2017 to 17 Sep 2017
Irony, glamour and seduction in Lake Como
Theatre Cinema Music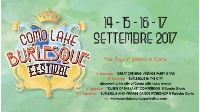 The third weekend of September Como will be transformed: a vintage atmosphere will take hold of the city, with irony, glamor and seduction, hosting the fourth edition of an international burlesque festival.

The FEstival will start on Thursday night with the "Great Opening Party" with the animation of the girls at the Champagne Academy of Burlesque Education and the opening show with performances of international performers, during the evening there will be surf music and rock'n roll with the Dj Boogie Rose.

On Saturday, performers from all over the world will compete for the fabulous Grace Gotham and win the title of "Reginetta del Lago": the competition will take place on September 16th at Gloria Space where, on the same night, we will host the "Vintage Party" swing and electroswing.

During the four days of the festival, the city will host numerous events in collaboration with local shops, bars and clubs, especially on Friday, September 11th, with the event that makes our festival unique in Burlesque: the "Burlesque in the City".

There will also be room for teaching: Saturdays and Sundays at the Cento Gym everyone can attend classes and workshops at all levels with the artists

The festival also boasts prestigious collaborations this year, including guests: Grace Gotham (queen in charge), Cherry Shakewell (winner of the title "most classic"), Alan De Bevoise (english boylesquer), Helene Phillips (Burlesque Bible reporter ), Pino Di Bello (director and playwright).
On stage is also the Italian Miss Sophie Champagne, performer and producer of the festival.
To present the festival the comic actor Stefano Annoni.
Info
Venues: various locations in Como
Hours
Please check the official programme
indietro