Events
Bellagio Festival Orchestra
from 02 Aug 2019 to 02 Aug 2019
AcCOMOdatevi - Take a seat
Theatre Cinema Music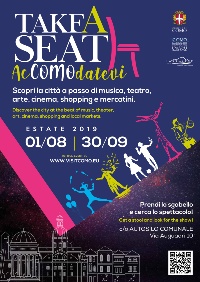 A route that will accompany the audience from the Baroque masterpieces up to the music of the present day. The concertos of Vivaldi will be followed by Bach's Air on the G String, Mozart's Eine kleine nachtmusik, and Tchaikovsky's Melodie, as well as soundtracks from famous films. The concert will end with the performance of one of composer Rossella Spinosa's twelve pieces dedicated to Lake Como, specifically commissioned for the event.

The Bellagio Festival Orchestra, directed by Maestro Alessandro Calcagnile, was formed in 2012 at the Bellagio and Lake Como Festival. The group combines traditional repertoire from the Baroque to the present day with original productions, including opera and theatre, dedicated to the great artists who stayed on Lake Como (including Liszt, Stendhal, Rossini, and Verdi), regularly appearing in the most evocative dwellings and historical residences of the territory in addition to several other locations in the province of Como and Lecco.
The leaflet with all the events that will take place on August and September in Como
Info
where: piazza Grimoldi - Como
Event is free

By presenting your ID card at the parking garage in via Auguadri, you will receive a camping stool to attend the show and to be returned at the end of the event.


Hours
At 7.30 pm - repeat performance at 10.00 pm
indietro