Events
Arsura d'amuri
from 24 Aug 2019 to 24 Aug 2019
AcCOMOdatevi - Take a seat
Theatre Cinema Music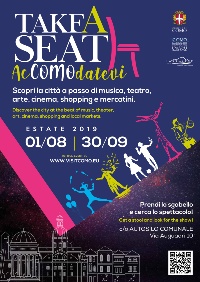 A theater - song show: life, struggles, hopes and the viewpoint of the great Sicilian poet Ignazio Buttitta and the traditional Sicilian songs to the reinventions by Domenico Modugno.
The leaflet with all the events that will take place on August and September in Como
Info
where: courtyard of Palazzo Olginati, Historical Museum, piazza Medaglie d'Oro 1 - Como
Event is free, subject to availability (max 80).

By presenting your ID card at the parking garage in via Auguadri, you will receive a camping stool to attend the show and to be returned at the end of the event.
Hours
At 7.00 pm - repeat performance at 10.00 pm
indietro