Oggi in vetrina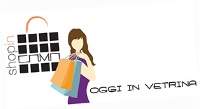 Get to know all shops' offers in Como is easier than ever! Oggi in vetrina is the brand new app developed by ShopinComo to help you find the offer that fits you better.
Shopping, well-being and free time: the app is designed to find the best offers to make your shopping experience in Como as easy and good as possible.
For each product the app displays the original price and the new one, telling for how long the offer goes on and some details about the shop, therefore making it possible to plan your shopping from home.
Oggi in vetrina is available for free on Android, iOS and Windows Phone stores.
Click here to download the app.
indietro